Latest Video
Upcoming Events
Upcoming events for 3D Metal Printing Magazine!
Free E-Newsletters
Sent monthly to inform you of happenings within the 3D Metal Printing industry.
View a Sample
View Issues
---
Oerlikon AM and MT Aerospace Partner to Advance Additive Manufacturing Solutions for Aerospace
Wednesday, June 19, 2019
Oerlikon AM
and
MT Aerospace
have announced their partnership to accelerate the use of additive parts in the aerospace and defense industries through end-to-end customer solutions. With Germany-based MT Aerospace's heritage in designing highly stressed and lightweight metal structures and Switzerland-based Oerlikon's materials, the partnership offers aerospace customers a notable advantage by realizing synergies between construction/design, manufacturing and part inspection and qualification.
---
Rolls-Royce Selects SLM Printer
Tuesday, June 18, 2019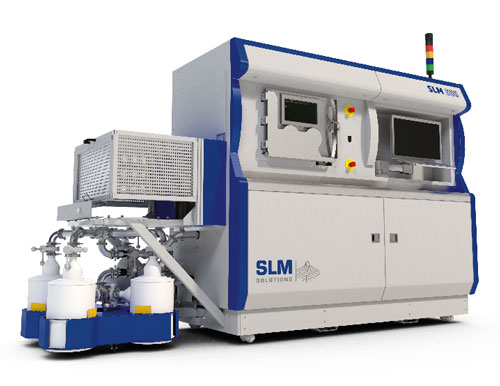 Rolls-Royce has selected an SLM 500 quad-laser metal 3D printer from SLM Solutions for the manufacture of additive manufactured aerospace components. With four lasers enabling build rates up to 171 cm3, the printer meets demand for high-volume processes while offering automated, closed-loop material supply, recovery and sieving to minimize operator handling of metal powder.
While speed and safety are common requirements, aerospace particular challenging because of the rigorous certification process that requires a reliable, high standard of part quality.
---
GE Considers AM for Wind Turbines
Monday, June 17, 2019
While GE Additive continues to innovate in the medical and aerospace segments, it may soon add renewable energy to its accomplishments, according to Danielle Merfield, vice president and chief technology officer for GE Renewable Energy
While at the American Wind Energy Association Windpower Conference in late May, Merfield told Windpower Monthly that GE is looking at how to apply additive manufacturing to wind-turbine components, large and small, and describing such efforts as having the potential to "radically change the nature of what we do."
Stay tuned.
---
Burloak Technologies Announces Fully Operational AM Center
Friday, June 14, 2019
Burloak Technologies, Oakville, Ontario, Canada, a leader in the additive manufacturing industry and a division of Samuel, Son & Co., Limited, announced that its 65,000-sq.-ft. Additive Manufacturing Centre of Excellence is now fully operational.
The $104-million facility offers these technologies: laser powder bed fusion, electron beam powder bed, electron beam wire and directed energy laser fusion. Post-production services include design, engineering, CNC machining, heat treatment and finishing capabilities.
---
Nano Dimension and Hensoldt Enter Strategic Collaboration
Thursday, June 13, 2019
Nano Dimension, an Israel-based additive electronics provider has announced a
strategic collaboration
with Hensoldt, a Germany-based global security and defense electronics firm. Under this collaboration, Hensoldt engineers will work closely with Nano Dimension's engineering team to develop innovative applications for Hensoldt's security and defense business. Officials for both companies say the collaboration's aim is to pave the way for the manufacture of products and components with integrated functionality known as 3D structural electronics.
---