Software Re-Scaling Tool Simplifies Accurate Part Printing
May 21, 2021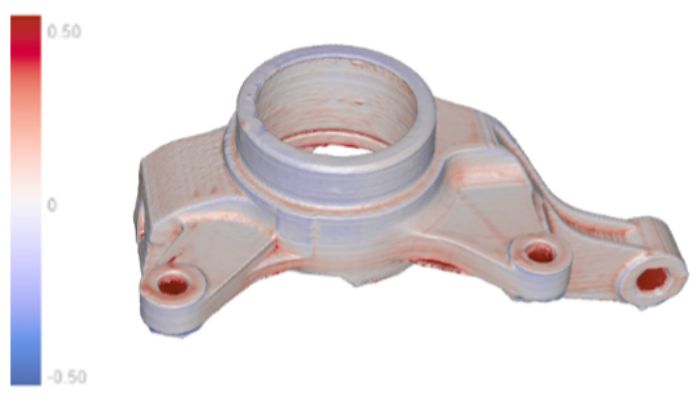 Riven, recognizing that 3D-printed parts shrink or warp during the printing process, has introduced a re-scaling tool that reportedly simplifies printing of accurate parts. Riven's software automatically computes re-scaling factors as compared to the original CAD—all 3D printing processes, metal and nonmetal, benefit from this capability.
Unlike checking limited dimensions with calipers or a CMM, Riven uses a full part capture to compute an optimal solution based on the entire part shape to produce a more accurate result. And, it only takes minutes for Riven's re-scaling tool to create results with clear indications of the location and degree of variance from the intended design. Once Riven's software has checked a test part, new parts can be quickly adjusted using the established re-scaling factors.
Rapid 3D re-scaling data can save hours, iterations and costs, and produce significantly more accurate parts, according to Riven officials, with only a few minutes for a quick scan and automatic CAD-compare. The tool reportedly works even with changed materials or settings, or when printing in a different location in the print volume. Riven's re-scaling tool also can be used to calibrate the entire build volume for binder-jet and other machines.
Besides 3D re-scaling software capabilities, Riven also offers shareable push-button CAD-compare, digital go/no-go, click-to-measure and automatic scan-to-CAD reverse-engineering software.
Technologies: Software