Latest Software Version Expands Build Preparation and Simulation
October 29, 2018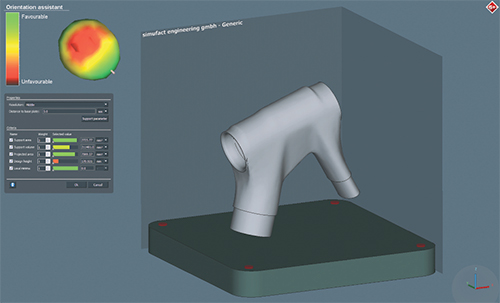 Simufact Additive, Version 4, focuses on build preparation, build simulation and subsequent steps including heattreatment, cutting the base plate, removing supports and hot isostatic pressing (HIP).
With its workflow-oriented user interface, the software helps the user to identify the best build orientation, compensate final part distortion automatically below a given threshold, optimize support structures automatically, and predict manufacturing issues such as cracks, shrinklines and recoater contact.
The software also enables the user to calculate the temperature field for multiple parts on the base plate, including preheating of the base plate. And recognizing that support structures play a significant role in achieving first-time-right print results, Simufact Additive offers integrated support structure capabilities, allowing users to visualize the support structures and perform basic operations, such as adjusting the density and angle of the supports.

See also: Simufact Engineering Gmbh
Technologies: Software