Heat-Sink Redesign for Motorsports Application Delivers Big Cooling Gains
December 7, 2021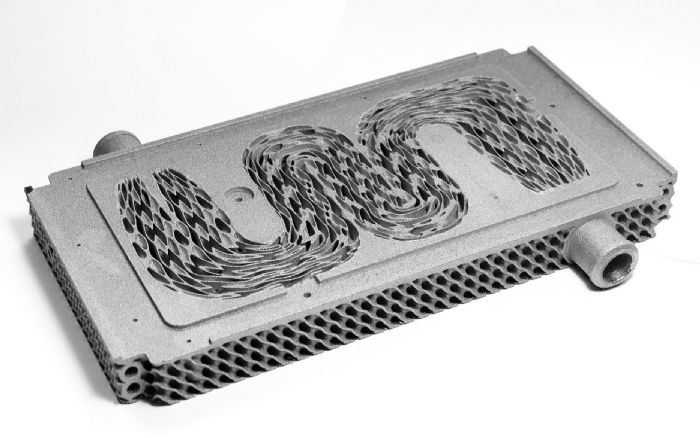 Puntozero has employed nTopology software to redesign the cold plate for the power electronics of Dynamis PRC's electric race car, optimizing the design for additive manufacturing (AM). The result: a 25-percent-lighter liquid-cooled heat sink and bioinspired flow guides (think shark fins) that reportedly increased the heat transfer surface area by 300 percent. An EOS M 290 AM machine printed the component, using m4p PureAl powder from Italian company m4p Material Solution GmbH.
The flow guides, based on a warped-gyroid lattice structure, smoothly stir the flow around the curved channels to eliminate spots with zero flow velocity. At the same time, the flow-guide design dramatically increases the contact area between the liquid and the aluminum heat sink, according to nTopology officials.
Overall, optimization of the external lattice reportedly resulted in reduced component weight, material usage and production cost while improving manufacturability and heat dissipation.
See also: Ntopology
Technologies: Software