Metal AM Yields High-Performance Servo Valves, Aids Sustainability Quest
April 6, 2021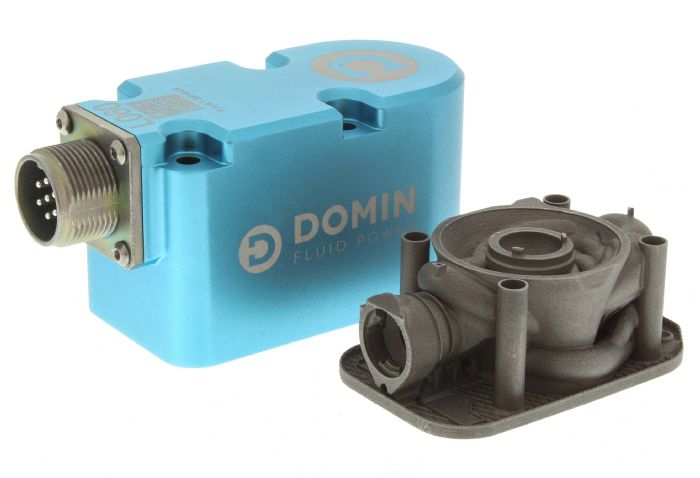 Domin, a United Kingdom-based company that has developed a range of fluid-power products, has, with Renishaw metal-additive manufacturing (AM) technology, now produced a high-performance servo valve. Producing the valve via AM helps Domin in its quest to reduce CO2 emissions in the fluid-power industry, as use of each of these valves delivers system efficiencies that save 1000 kg of CO2 as compared with alternative products, according to Domin officials.
Founded in 2012 with an aim to disrupt the fluid-power industry by improving the range of technology available and by increasing sustainability, Domin viewed metal AM as the missing piece of the puzzle. It turned to this technology to design its product range. Specifically, the company employed a Renishaw RenAM 500Q, a four-laser AM system designed for serial-production applications. Through the machine's use, Domin was able to increase its productivity, achieve design freedom and reduce cost per part in such a way that 3D printing presented a compelling case for use in hydraulic manufacturing.
Domin's electrohydraulic valves, designed for demanding servo applications, are marketed as small, light, affordable and high-performance products. Simple to configure online, the valves reportedly offer good power density and dynamic performance.
"There is a pressing reason disruption is needed—sustainability," explains Marcus Pont, Domin chief executive officer. "In the United States, the fluid-power sector alone wastes about 300 million kg of CO2 per year through system inefficiencies. To put this into context, this is about the same as the total output for all CO2 emissions in the United Kingdom. More efficient technology could make a real difference to global emissions. (And), it is time for British business to become more ambitious. Combining metal AM with other technologies revolutionizes what can be achieved technically—it could generate real value for British industry."
Long term, Domin plans to start manufacturing and selling complete systems. It is already working on some high-profile projects, which Pont says includes one to develop a new suspension system with Aston Martin Lagonda. Expect metal AM to play a key role.
"AM is proving to be a key enabler in many markets," says Bryan Austin, director of sales for the Additive Manufacturing Group at Renishaw. "The productivity that Renishaw's technology enables means that metal 3D printing is broadening into markets where previously it was uneconomical. Domin has showcased how AM can be used to make products better, faster and cheaper than traditional manufacturing would allow."
See also: Renishaw Inc.
Technologies: Powder-Bed Systems