Wayland Additive Launches Calibur3 Metal-AM System
April 5, 2021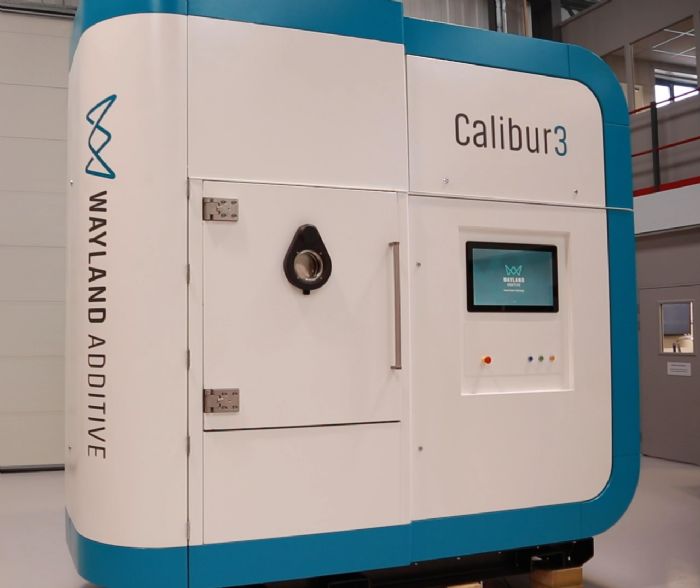 Wayland Additive has launched its additive manufacturing (AM) system for metal, the Calibur3. The Calibur3 uses Wayland Additive's NeuBeam process, which, according to company officials, effectively neutralizes the electron-beam powder bed fusion (PBF) process to offer greater flexibility than laser-based AM processes while overcoming the stability issues many users of traditional electron-beam PBF AM systems experience. In addition, Wayland Additive officials offer, the NeuBeam process enables metallurgical requirements to be tailored to application requirements, a limiting factor in previous electron-beam AM processes.
"We have spent the past five years researching and developing the Calibur3, which directly overcomes shortcomings that industry faces if relying on legacy metal-AM technologies," says Will Richardson, CEO of Wayland Additive.
NeuBeam reportedly is a hot-part rather than a hot-bed process, enabling creation of parts free of residual stresses due to high temperatures applied only to the part and not the bed, ensuring free-flowing powder post-build (no sinter cake) and stress-free parts with reduced energy consumption. Also, the process overcomes many limitations for manufacturing large components, according to company officials, due to no residual thermal stresses, no gas cross-flow and a simplified powder-removal process. To print larger parts, the Calibur3 offers a printable area of 300 by 300 by 450 mm.
The NeuBeam process, with built-in real-time in-process monitoring, reportedly can produce fully dense parts in a range of materials, many of which, such as refractory metals and highly reflective alloys, are not compatible with traditional electron-beam or laser PBF processes.
See also: Wayland Additive
Technologies: Powder-Bed Systems