Burloak Technologies Adds Quintus HIP to Aid AM-Production Scaling
April 22, 2021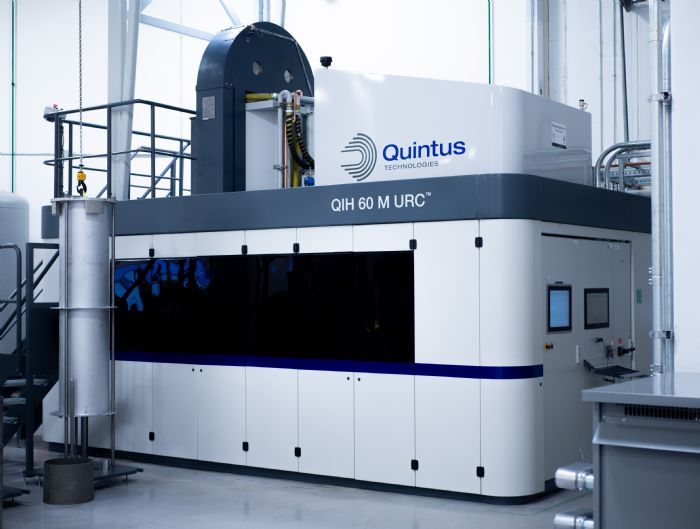 Canadian additive manufacturing (AM) provider Burloak Technologies has deployed a QIH 60 M URC hot isostatic press (HIP) from Quintus Technologies to provide improved part mechanical performance and strength properties. Burloak produces parts for applications in aerospace, automotive and industrial markets, focusing on transitioning challenging part designs for AM at scale, hence the addition of the HIP.
High Pressure Heat Treatment capability of the QIH 60 (see video) facilitates the transition by combining high pressure, heat treatment and cooling in a single process that reportedly allows time- and cost-saving removal of several operations from the AM production line.
Equipped with a rapid fan-driven cooling system, the QIH 60 can achieve a peak gas cooling rate surpassing 1500 K/min, with the press' customizable cooling cycle able to be programmed to stop at a specific temperature while maintaining the desired pressure set point. Rapid cooling under pressure minimizes thermal distortion and non-uniform grain growth in components, producing finished parts with optimal material properties, according to Quintus officials, who note that this capability enables significant production increases for Burloak.
"This capability is critical for Burloak as a full-service supplier for all customers, and, in particular, for the development of high-strength flight components," says Peter Adams, Burloak founder and chief innovation officer. "Without this inhouse capability, outsourcing this process would slow down our project timelines, add complexity to our processes and risk damaging critical customer components as they would need to be shipped internationally."
The model QIH 60 press features a hot zone of 16.14 by 39.37 in., an area large enough to process any component printed on most powder-bed machines, notes Adams. It operates at a maximum temperature of 2,552 F and maximum pressure of 207 MPa.
See also: Quintus Technologies, LLC
Technologies: Post Processing