New Metal Printer, for Stainless Steels, Deemed "Affordable"
February 10, 2017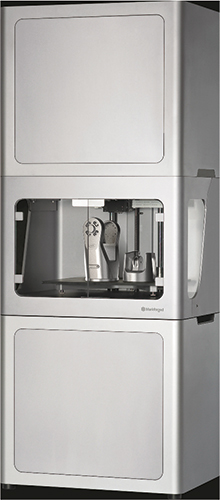 Markforged, Cambridge, MA, has introduced the Metal X, an atomic diffusion AM (ADAM) machine promising to produce robust metal parts easily and inexpensively, while creating shapes and geometries that cannot be machined or produced with other metal printers, according to company representatives. The ADAM technique produces precision parts using a metal powder contained in a plastic binder. After printing, the binder is removed and the part sintered into customary engineering metals. By sintering the entire part at once, ADAM technology allows metal crystals to grow through the bonded layers, reportedly erasing the layer-to-layer strength reduction of many other 3D printing processes.
At launch, the Metal X can print high-end stainless steels such as 17-4 and 303 and tool steel for injection-molding applications. Other metals are actively being considered. Machine features include a large build volume—250 by 220 by 200 mm; in-process laser inspection for dimensional accuracy; an Integrated powder-handling system; and a cloud-enabled build camera.
Markforged: www.markforged.com

See also: Markforged
Technologies: Other