XJet Opens Largest Center for Metals and Ceramics
October 17, 2018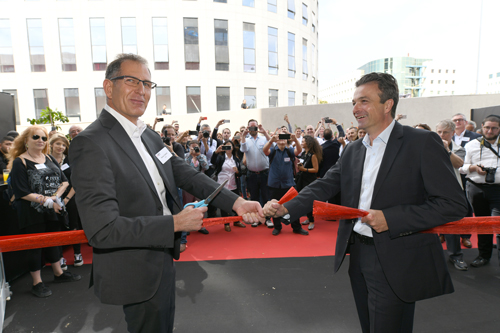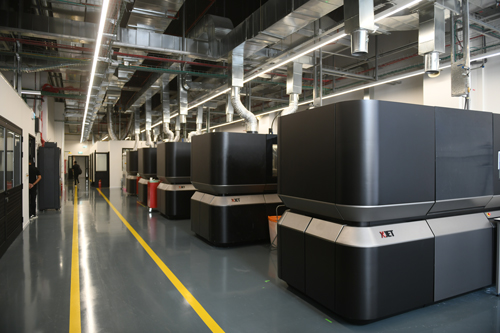 Hanan Gothait, CEO of XJet, cuts the ribbon with Stephan Oehler, VP of Straumann, marking the official opening of XJet's Additive Manufacturing Center.
XJet
, a Rehovot, Israel-based provider of nanoparticle inkjet 3D printing, officially opened its Additive Manufacturing Center on Monday. The event was witnessed by XJet stakeholders including local suppliers, global customers, journalists and the company's more than 100-plus team. With an investment of more than $10 million dollars, the 8,000-sq.-ft. facility in Rehovot Science Park is home to more than a dozen XJet Carmel nanoparticle inkjetting systems, giving it the distinction of being "home to the world's largest collection of metal and ceramic 3D printers," according to XJet officials.
Attendees toured the facility and see the XJet 3D printers running and talk to XJet customers and employees. Attendees also heard from XJet customers including
Syqe Medical
, an Israeli startup and developer of a metered-dose medical-cannabis inhaler,
Oerlikon Group
, a Switzerland-based AM service bureau. In addition, TED Talk speaker and winner of the Israeli Prime Minister's Prize for Initiatives and Innovation, Professor Oded Shoseyov, Hebrew University in Jerusalem, gave a talk on The Plant Age: Materials of the Future.
The XJet opening comes less than a year from the commercial launch of its first AM system. "We see huge potential for metals and ceramics, and we're working hard to build an infrastructure to support the rapid growth we will drive for the business. We look forward to sharing even more progress with the wider community at formnext next month."
See also: XJet Ltd.
Technologies: Other