Metal Binder Jetting Nets Positive Results for French Aerospace Supplier
January 10, 2022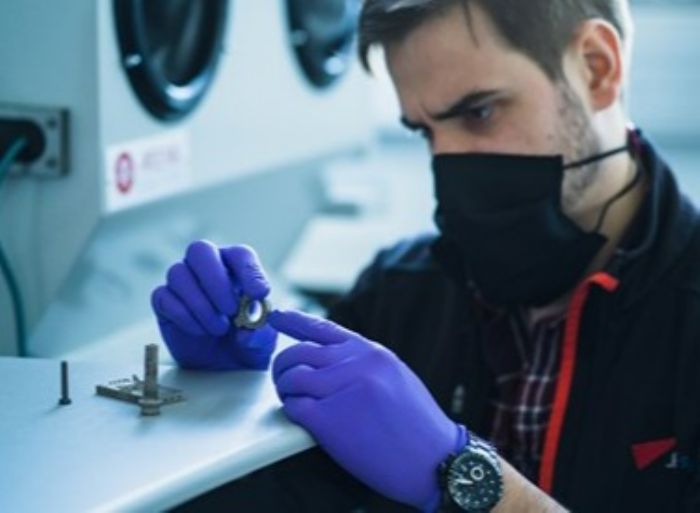 JPB Système, a France-based manufacturer of components and systems for aerospace and other industries, reports positive results from its continuing research of metal binder jetting (MBJ) additive manufacturing (AM) technology. The company, which has been trialing industrial MBJ for several months as part of its ongoing objective to ensure greater efficiency and agility across its production operations, reports reduction of overall lead times by 80 percent and weight savings of 30 percent in some trials.
Overall, trial results to potentially produce flight-ready parts are meeting expectations by delivering robust lighter-weight alternatives quicker, easier and more cost-effectively than traditional manufacturing methods such as machining and casting, according to company officials. Leveraging this AM technology, the company reports being able to create highly complex products with new geometries, further streamlining production efficiencies by removing the need for assembly.
"Such production efficiencies are evidenced if we compare the technology to the typical method of producing parts via casting in a foundry," says Jocelyn Vecchio, director of engineering and innovation at JPB Système. "As well as having limitations insofar as the geometries achievable, this involves expensive tooling that can entail long lead times of around six months—even longer if geometries change and a new mold is required. In contrast, using MBJ AM, we could produce the same part in about four weeks. The flexibility of this technology also means that, it doesn't take any longer to produce 100 different parts than it would 100 identical parts."
Another vital attribute for JPB Système is the technology's ability to create parts that are much lighter than metal alternatives. Via solid yet hollow bodies and tough lattice structures, test parts developed by JPB Système reportedly match the durability of traditional metal variants but use much less material.