Big AM-Machine Investments for Morf3D at New Digital Manufacturing Center in CA
A host of news surrounded Morf3D at RAPID + TCT, as the California company takes a leadership role in adopting digital manufacturing for AM. First, the announcement that Starburst Aerospace has committed to a technology development partnership with Morf3D's new Applied Digital Manufacturing Center (ADMC) in Long Beach, CA. With this partnership, Morf3D has added Van Espahbodi, co-founder and chief operating officer of Starburst Aerospace, to its board of directors.
Starburst Aerospace, a global aerospace accelerator, connects startups with corporations, investors and governments, while providing strategic growth and investment consulting services for all.
Morf3D's 90,000-sq.-ft. ADMC harnesses applied research, advanced engineering and application development, serial production, and new industry partnerships to drive the industrialization of digital manufacturing in high-growth markets. At its peak, Morf3D's ADMC will be home to 150 multi-discipline engineers, research staff and technical teams, according to company officials. All of ADMC's R&D partners will work jointly to drive innovations and deploy novel methods of aerospace engineering in order to increase productivity and automation, according to Morf3D officials, with all partners also having access to collective training, meeting and gathering spaces for customer events and business-development efforts.
Morf3D currently is in the process of acquiring significant metal-AM capabilities—the basis for more news out of RAPID + TCT.
SLM Solutions announced that the ADMC will take delivery in 2022 of two SLM 500 machines as well as an NXG XII 600 with its 12 1-kW lasers. Along with machine supply, SLM Solutions will offer onsite support in the form of education, training and consulting. The NXG XII 600's 12 lasers provide the speed needed for use in serial production for high-volume applications as well as for printing large parts, offer SLM Solutions officials. It reportedly is capable of printing at speeds 20 times faster than that of a single-laser machine and five times faster than a four-laser machine.
"The NXG XII 600 platform is an engineering marvel that addresses many aspects of a production-ready system," says Ivan Madera, CEO of Morf3D, "and the ADMC will enable new industry partnerships, significantly scaling AM to new heights. Our goal is to accelerate the qualification process by collaborating on new-application development and part certification within the aerospace, space and defense market."
Says Sam O'Leary, CEO of SLM Solutions: "Adding the NXG Xll 600 to Morf3D's SLM Solutions' machines at the ADMC bolsters the collective digital-manufacturing ecosystem, helping to improve production speed, quality and automation."
EOS and Morf3D have committed to a technology development partnership for ADMC. Morf3D's technology investments in EOS' Direct Metal Laser Solidification (DMLS) metal-AM platforms will include the biggest installation of EOS M 400 series systems under one roof, automated shared modules, material management systems and EOS' AMCM line of specialized large-format metal industrial 3D printers. All of these, offer EOS officials, will work in concert to accelerate progress toward the industrialization of AM.
"The AM industry is developing fast and Morf3D's ADMC is a next-level development toward scaling production," says Glynn Fletcher, president of EOS North America, stressing EOS' commitment to serial AM production, "and the ADMC is another giant step on our industry's march toward the digitization of manufacturing."
Says Morf3D's Madera: "As we seek to re-invent the future of manufacturing, our industry partnerships within the ADMC will bring forth exciting capabilities and new innovations for the industry. Our aim is not to simply add more capacity or capability but rather solve the complex issues that are central to industrializing AM. EOS and AMCM are poised to help lead the charge toward productionizing AM at scale."
Open Mind's CAM Software Tackles Hybrid Manufacturing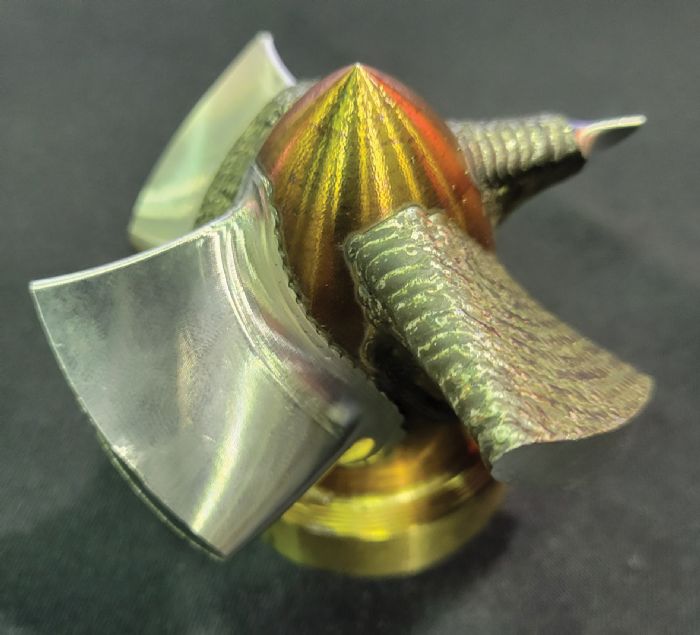 3D Metal Printing spied this propeller, produced via hybrid additive (directed energy deposition, or DED) and subtractive manufacturing that includes final finish, on display by Open Mind, and demonstrating the capabilities of the company's hyperMill CAM software.
hyperMill, a modular CAM solution for 2.5D, 3D and five-axis milling as well as mill turning and machining operations such as high-speed cutting and high-performance cutting, integrates all of these functions in a single interface. Special applications allow for milling impellers, blisks, turbine blades, tubes and tire molds.
For hybrid use, hyperMill features unique five-axis technology from Open Mind for simultaneously controlling material deposition and enabling users to program the cladding (DED) and milling together. True-to-detail application and removal simulation as well as stock tracking between the individual machining steps deliver process reliability, according to Open Mind officials.
hyperMill is offered as a direct integration for CAD systems such as Solidworks, and Autodesk Inventor as well as for Open Mind's own hyperCAD-S.
6K Gains Series C Funding, Enabling Tripling of Powder-Production Capability
6K, producer of AM powders and sustainable materials for energy storage, announced closing of a $51-million Series C financing round that enables investment to boost AM-powder production significantly and expand battery-development capabilities.
Specifically, this investment enables a tripling of 6K's production capacity for metal-AM powders in the 6K Additive division, an increase in the portfolio of powder-product offerings and expansion of the company's global commercial-sales activities globally. On the energy-storage side, the investment allows 6K to complete its Battery Development Center of Excellence, which adds 33,000 sq. ft. of state-of-the-art product development space, and double its 6K Energy team. The financing round was led by Volta Energy Technologies, joined by new investors Catalus Capital and S Cap/Prithvi Ventures, and existing investors Anzu Partners, Launch Capital, Material Impact and RKS Ventures.
"This round of capital is a validation of 6K's model to replace wasteful legacy production technologies with the UniMelt platform, enter scaled production, meet customer needs, move toward profitability and transform industries," says Aaron Bent, 6K CEO. "We are joined by worldclass investors who are aligned with our vision to transform the way performance materials are produced. In doing so, we are teaming to solve critical needs of the United States and the planet, addressing climate change and supply-chain security, and reducing the demand on our fragile and limited resources."
6K's continuous, high-volume UniMelt plasma production system can yield advanced performance materials in as little as 2 sec. versus 2-3 days, according to Frank Roberts, 6K Additive president, and Adrian Chaffins, the company's vice president of supply chain and trading, who tell 3D Metal Printing that the process replaces legacy manufacturing approaches with a lower-cost, smaller-footprint production technology. The UniMelt process, they say, can produce metal-AM powders, battery materials for electric vehicles, semiconductor materials, phosphors, advanced ceramics, electronics materials and more.
HP Shows Off T-Roc A-Pillar Metal-AM Part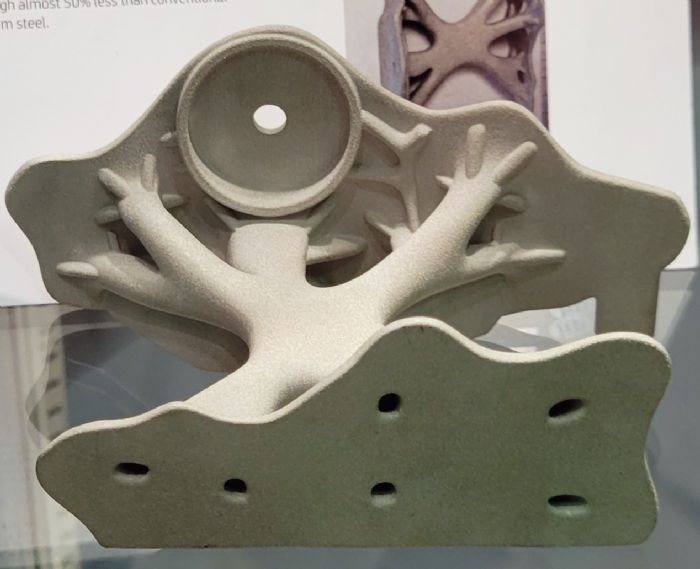 HP Inc. publicly displayed an A-pillar part, from Type 316L stainless steel, produced by Volkswagen in Germany for its T-Roc vehicle, reportedly the first instance of an automaker employing metal binder jetting to produce production parts.
The breakthrough results from a 5-yr., multi-million-dollar investment by VW in metal binder jetting, including a collaboration with HP and its Metal Jet technology, and a software partnership with Siemens. The ultimate goal: making metallic binder-jetted parts viable for production-line use.
3D Printing via Desktop Metal Ideal for Downhole Stainless-Steel Part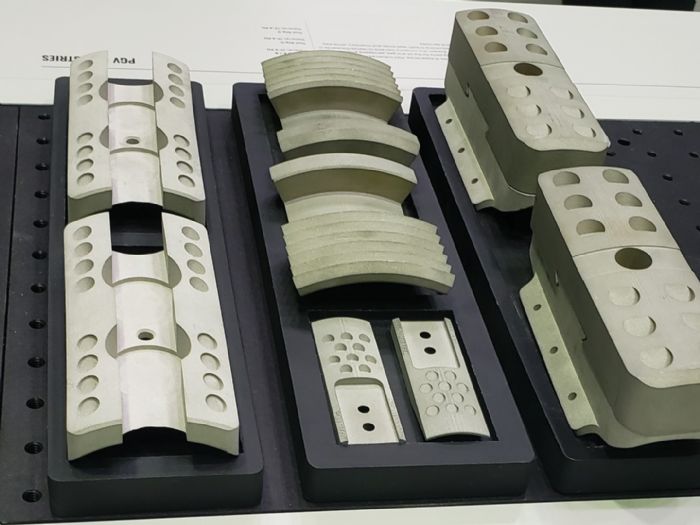 Since 1983, PGV Industries, Karnes City, TX, has manufactured parts and tools in small and large production volumes for aerospace, medical, and oil-and-gas industries. Traditionally using CNC-based manufacturing, the company has added 3D printing to its resume, including the Shop System from Desktop Metal, designed to bring metal 3D printing to machine shops, according to the AM-machine provider, and which debuted at formnext 2020.
PGV has incorporated the production-level metal 3D printer into its manufacturing regimen, with some of the company's downhole parts (used in underground-drilling applications) on display (pictured) in the Desktop Metal booth. The 14-4 PH stainless-steel tool-slip part pictured on the left, used downhole to secure a tool to a well bore, was produced via 3D printing whereas previously it required five different manufacturing processes to complete. When printed, it held a ±0.005-in. tolerance, according to PGV officials, who note that using the Shop System has enabled significant reduction in lead times and inventory when producing parts such as this.
Markforged Releases Cloud-Based Software to Scale AM
Markforged unveiled Eiger Fleet, a cloud-based software solution designed to accelerate the adoption of AM operations at scale. Eiger Fleet helps to transform AM from a small-scale operation to a large globally-connected, distributed manufacturing fleet by giving organizations a secure, cloud-connected and centralized source of control over their Markforged 3D printers, users and part production, according to company officials. The software is available worldwide as a paid subscription on all Markforged printers.
The newest addition to the Markforged Eiger software portfolio, Eiger Fleet enables manufacturers to adopt AM technologies into their more traditional workflows—helping automate business processes through integrations with a company's existing enterprise systems to expand access to the Markforged Digital Forge (a software platform that interconnects all Markforged systems) across their entire business. For organizations looking to scale their AM capabilities, Eiger Fleet offers enterprise-level features to manage users, devices and data, reportedly with greater control and efficiency to print parts on demand at the point of need.
Vestas Wind Systems A/S uses Eiger Fleet to manage the production of parts and tools on Markforged 3D printers for the company's global fleet of wind turbines.
"Over the past several years, direct digital manufacturing has evolved at Vestas to connect our factories around the world to support agile production of parts and tools on demand," says Jeremy Haight, principal engineer for industrial automation and AM at Vestas. "We depend on the Markforged platform with Eiger Fleet and Blacksmith (Desktop Metal's artificial-intelligence-based adaptive manufacturing platform that connects part design, production and inspection) to provide the centralized control, enterprise resource planning, asset management, and other system integration and print analysis for industrial-grade AM that our global business needs."
Mantle Adds Funding, Cites Growth in its Hybrid Process for Tooling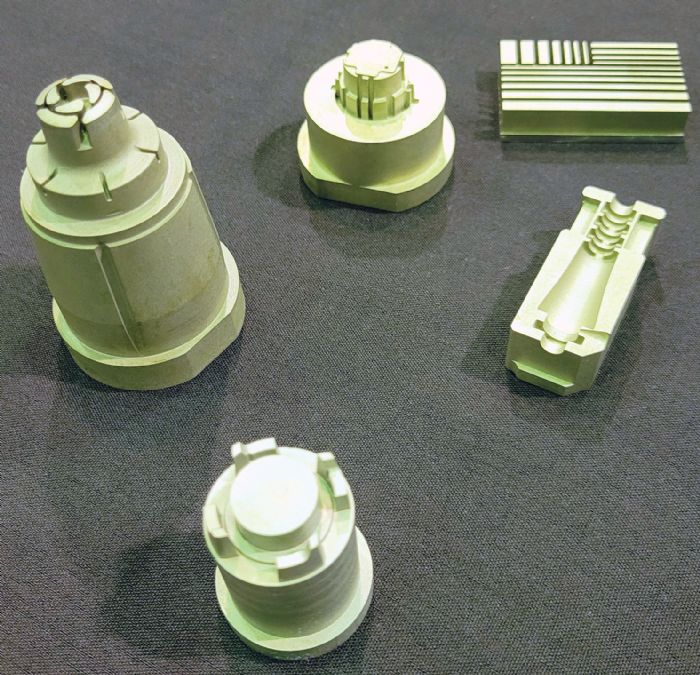 3D Metal Printing met with Mantle officials, as the company, which earlier this year debuted its TrueShape hybrid manufacturing process targeting the tooling market, announced $25 million in Series B funding. This funding round, led by Fine Structure Ventures and including Foundation Capital, Hypertherm Ventures, Future Shape, 11.2 Capital and Corazon Capital, brings the total amount raised by Mantle to $41.5 million. Mantle will use the new financing to increase its hardware, software, materials-science and manufacturing teams to accelerate the development and installation of its first commercial systems in early 2022.
At RAPID + TCT, Ted Sorom, Mantle cofounder and chief executive officer, and Paul DiLaura, chief commercial officer, offered that more than 1 million end-use parts to-date have been produced with tooling made via Mantle's technology. The company focuses on TrueShape to tackle the traditionally time-consuming and expensive task of tooling production, and reduce this bottleneck in the manufacturing environment.
TrueShape combines AM and subtractive finishing in a single, hybrid 3D printing process that employs metal-alloy pastes to produce high-hardness steels. These steels meet or exceed demanding tooling requirements while the TrueShape process yields superior accuracy and surface finish, Sorom and DiLaura explain. TrueShape technology includes multiple tool-steel materials, custom printing hardware and a user-friendly software suite to deliver toolmakers a complete production-grade tooling solution. These tools, made from high-hardness steel through a multi-step process that includes programming, cutting and finishing, often take months to produce, and at high cost. Mantle's process, enabling creation of tight-tolerance features, reportedly only takes days, enabling companies deploy new tools within a few weeks while significantly cutting costs.
"Most of the products we use every day are manufactured using the types of tools that Mantle prints," Sorom says. "Our investors and customers are excited about the evolutionary and revolutionary nature of Mantle's unique approach."
Recent customer successes cited by Mantle include Tessy Plastics, a global contract manufacturer specializing in injection molding and custom automated-assembly solutions. Tessy demonstrated the successful use of Mantle's 3D-printed tooling components in a production tool for a high-volume consumer product, with more than 400,000 cycles run in the tool, which uses multiple 3D-printed inserts. All molded parts have met Tessy's quality standards for dimensional accuracy and surface finish.
And, a medical-device manufacturer successfully reduced the lead time for a prototype tool from 12 to 4 weeks and reduced the cost by more than 65 percent by using Mantle's 3D-printed tooling components, according to DiLaura. The printed mold components met the manufacturer's strict accuracy and surface finish requirements, and all molded parts met requirements for dimensional accuracy and mechanical properties.
FormAlloy Software Records and Analyzes DED Build Data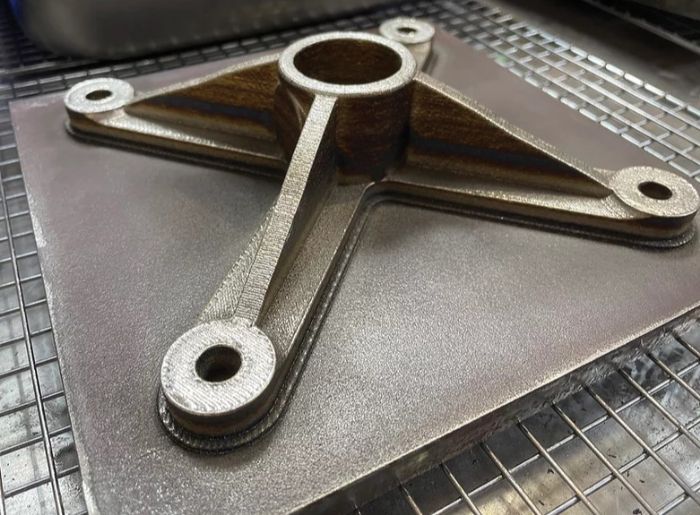 FormAlloy launched DEDSmart, a software suite that enables users to record all directed energy deposition (DED) build-parameter data, output the data set and analyze the data post-build to verify build quality, as done with the pictured DED-produced bracket. The software also offers a playback feature that allows a process to be frozen and repeated as desired. DEDSmart uses all system speeds, feeds and sensors to create a comprehensive build history and generate full-quality repeatable components, according to company officials.
"DEDSmart enables confidence for users to produce consistent quality parts, with unprecedented open access to data sets for analysis, frozen processing and part certification," says Melanie Lang, FormAlloy chief executive officer.
AMGTA Study to Compare Lifecycle Assessments of Aerospace Component

The Additive Manufacturer Green Trade Association (AMGTA) announced that it has selected the Golisano Institute for Sustainability at Rochester Institute of Technology to conduct a lifecycle assessment comparing an additively designed and manufactured aerospace component to a traditionally manufactured component. The study, to be ISO 14040-compliant, centers around the cradle-to-grave environmental impacts of a jet-engine low-pressure-turbine (LPT) bracket (pictured) produced through each method.
"This new study will include as many as 18 different environmental indicators to quantify the environmental impacts that an optimized jet-engine LPT bracket has throughout its entire lifecycle—from material extraction to manufacturing, transportation, use, and its eventual end of life," says Sherry Handel, AMGTA executive director. "This data then will be compared to a traditionally designed and manufactured LPT bracket to determine where exactly powder bed fusion AM technology results in lower environmental impacts."
AGMTA expects the report to be published next spring with key findings announced at RAPID + TCT 2022 in May.
Farsoon-Built Heat-Exchanger Parts Benefit Autonomous Underwater Vehicle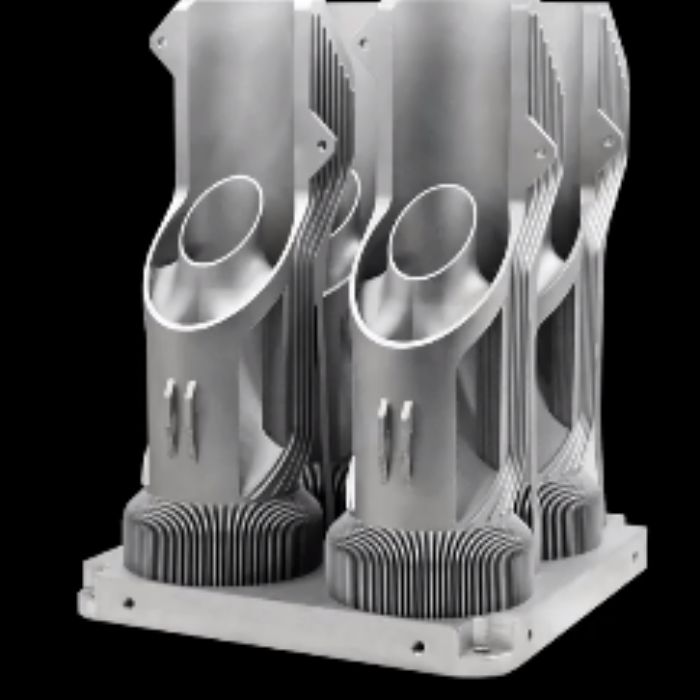 Farsoon Americas displayed aluminum heat-exchanger parts for a newly designed autonomous underwater vehicle (AUV), with Farsoon Technologies having helped engineer the part's structural integration and contributing to manufacturing through the use of its dual-laser FS301M laser powder-bed fusion machine.
Due to the complexity of an underwater environment, AUVs must be reliable, robust and efficient, note Farsoon officials. A new AUV design incorporated the combination of many chassis and cooling components into a unified central body, with the streamlined result accomplishing both structural loading and cooling performance into one structure.
The FS301M, with a 305 by 305 by 400-mm build envelope, fits four AUV heat-exchanger components, each 158 by 136 by 360 mm, in the same build. The machine, like all produced by the company, features an open platform to enable access to advanced processing parameters without artificial limitations on third-party materials, according to company officials.
Engineers achieve a build time of 96 hr. with build-layer thickness of 0.05 mm. As-printed parts reportedly feature excellent size accuracy and surface quality, and require post-process heat treatment, wire cutting and sandblasting.
Automatic Support Removal for XJet Parts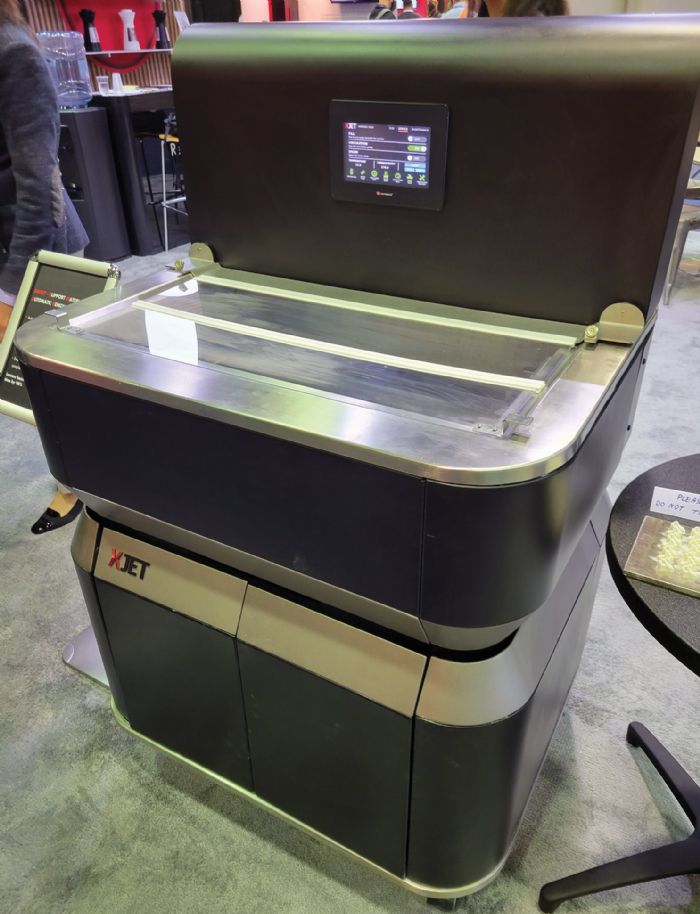 XJet debuted SMART (Support Material Automatic Removal Technology), which automates support removal off of parts printed via the company's NanoParticle Jetting systems. SMART offers a selection of washing programs to fit specific part trays, and completes support removal in a matter of 2-4 hr., according to Dror Danai, XJet chief business officer, who detailed the technology for 3D Metal Printing and noted the user-friendly process.
XJet's support-re-moval system reportedly decreases support-removal time by as much as 90 percent as compared to manual removal, while ensuring repeatable removal and finishing results. Currently, the system is available for ceramic parts produced via XJet AM machines, with systems available metal-parts cleaning following the commercial debut of XJet metal-AM machines in 2022, according to XJet officials. 3DMP
See also: Open Mind Software Technologies, Inc., EOS of North America, Inc., Desktop Metal, Inc., SLM Solutions NA, Inc., XJet Ltd.
Technologies: Management