CAM Software Tackles Hybrid Manufacturing
September 13, 2021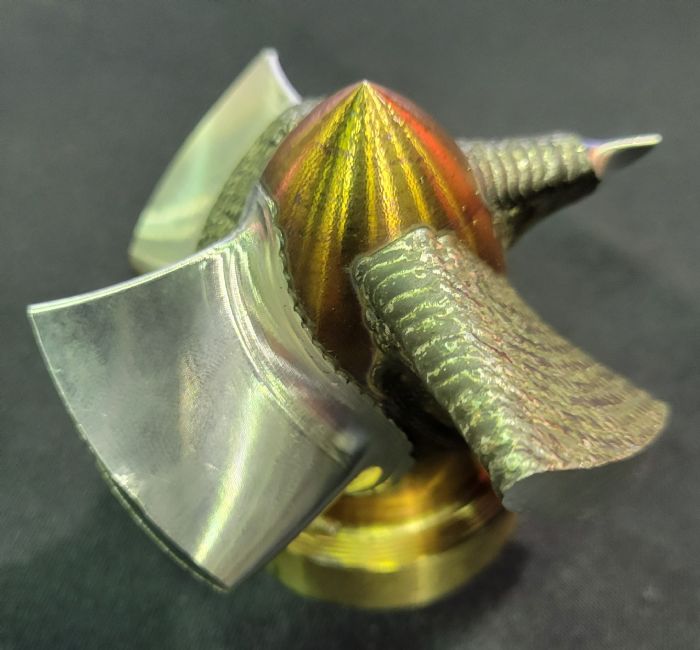 At RAPID + TCT…3D Metal Printing spied this propeller, produced via hybrid additive (directed energy deposition, or DED) and subtractive manufacturing that includes final finish, on display by Open Mind, and demonstrating the capabilities of the company's hyperMill CAM software.
hyperMill, a modular CAM solution for 2.5D, 3D and five-axis milling as well as mill turning and machining operations such as high-speed cutting and high-performance cutting, integrates all of these functions in a single interface. Special applications allow for milling impellers, blisks, turbine blades, tubes and tire molds.
For hybrid use, hyperMill features unique five-axis technology from Open Mind for simultaneously controlling five-axis material deposition and enabling users to program the cladding (DED) and milling together. True-to-detail application and removal simulation as well as stock tracking between the individual machining steps deliver process reliability, according to Open Mind officials.
hyperMill is offered as a direct integration for CAD systems such as Solidworks, and Autodesk Inventor as well as for Open Mind's own hyperCAD-S.
See also: Open Mind Software Technologies, Inc.
Technologies: Directed-Energy Systems