Latest Video
Upcoming Events
Upcoming events for 3D Metal Printing Magazine!
Free E-Newsletters
Sent monthly to inform you of happenings within the 3D Metal Printing industry.
View a Sample
View Issues
Industry News
---
Visser Precision Inks Agreement with EOS North America
Friday, October 19, 2018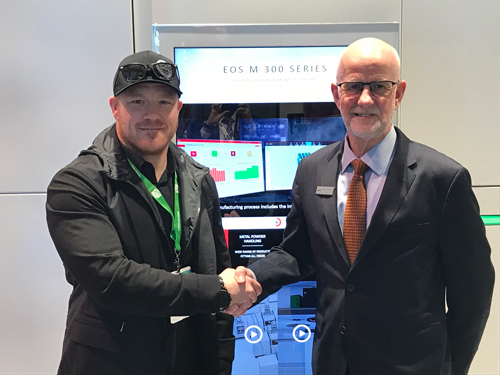 Visser Precision President Ryan Conian and EOS President Glynn Fletcher.
EOS North America, a Novi, MI-based provider of 3D-printing technology and
Visser Precision
, a Denver, CO-based provider of advanced manufacturing solutions, announced a deal providing Visser with three EOS M 400-4 systems and two newly launched EOS M 300-4 systems, making Visser the first organization to purchase the M 300-4 platform. Terms were reached during the International Machine Tool Show 2018. The two EOS systems are four-laser platforms designed for serial production, with the newest EOS M 300 series designed from the ground-up for integration into a digital manufacturing environment with configurable and scalable equipment architecture, while delivering a productivity increase between four to 10 times, compared to existing mid-frame systems.
"Nearly anyone nowadays can 3D print something in metal, the trick is repeatability while meeting and maintaining quality," says Ryan Coniam, president of Visser Precision. "Our investments with EOS mean we can deliver that to our customers."
---
XJet Opens Largest Center for Metals and Ceramics
Wednesday, October 17, 2018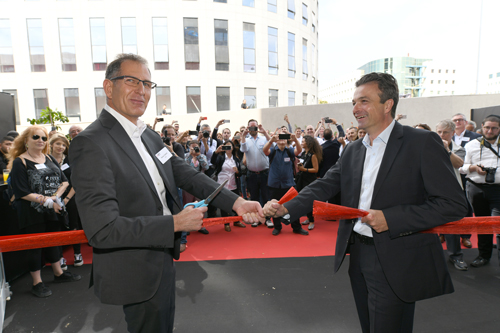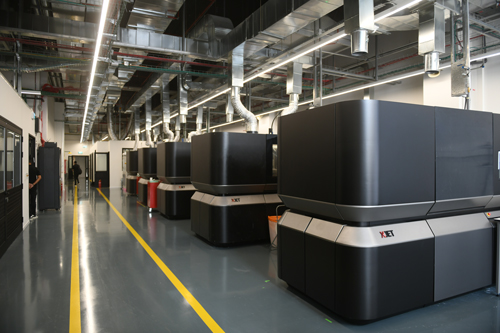 Hanan Gothait, CEO of XJet, cuts the ribbon with Stephan Oehler, VP of Straumann, marking the official opening of XJet's Additive Manufacturing Center.
XJet, a Rehovot, Israel-based provider of nanoparticle inkjet 3D printing, officially opened its Additive Manufacturing Center on Monday. The event was witnessed by XJet stakeholders including local suppliers, global customers, journalists and the company's more than 100-plus team. With an investment of more than $10 million dollars, the 8,000-sq.-ft. facility in Rehovot Science Park is home to more than a dozen XJet Carmel nanoparticle inkjetting systems, giving it the distinction of being "home to the world's largest collection of metal and ceramic 3D printers," according to XJet officials.Attendees toured the facility and see the XJet 3D printers running and talk to XJet customers and employees. Attendees also heard from XJet customers including
Syqe Medical
, an Israeli startup and developer of a metered-dose medical-cannabis inhaler,
Oerlikon Group
, a Switzerland-based AM service bureau. In addition, TED Talk speaker and winner of the Israeli Prime Minister's Prize for Initiatives and Innovation, Professor Oded Shoseyov, Hebrew University in Jerusalem, gave a talk on The Plant Age: Materials of the Future.
The XJet opening comes less than a year from the commercial launch of its first AM system. "We see huge potential for metals and ceramics, and we're working hard to build an infrastructure to support the rapid growth we will drive for the business. We look forward to sharing even more progress with the wider community at formnext next month."
---
Renishaw and Altair Announce Collaboration
Tuesday, October 16, 2018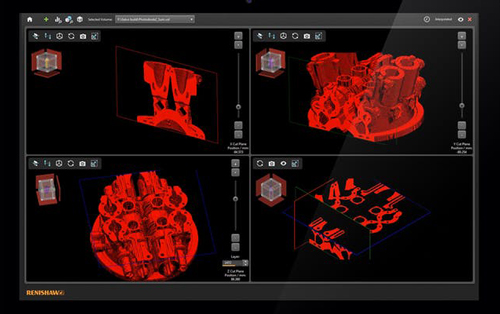 Renishaw, provider of advanced metal additive manufacturing (AM) systems, has joined forces with Altair, a provider of enterprise-class engineering software, for a series of projects aimed at bringing AM into serial end-use production.
"Altair is a world leader in simulation-driven design," says Stephen Anderson, AM business development manager of Renishaw, Inc. "Research combining their software with our latest systems will give Altair practical insights that will lead to innovative improvements in their products."
According to David Coates, senior program manager at Altair, "Working closely with Renishaw benefits the development and application of our software to optimize designs for functionality as well as printability, accuracy and suitability for its designated purpose. This collaboration helps ensure that AM part development, print cycles and scrap rates are minimized for our customers."
---
Trumpf Succeeds with Symposium
Monday, October 15, 2018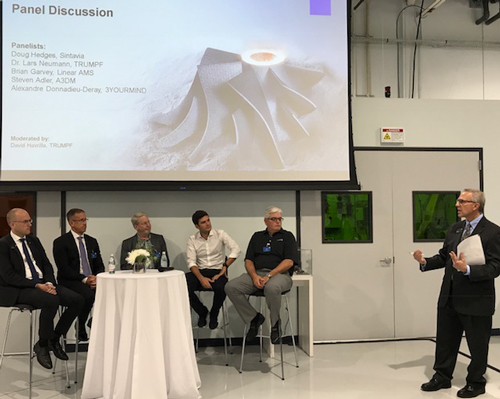 About 100 engineers, executives and suppliers attended the first Trumpf Additive Manufacturing Symposium, held at the company's Laser Technology Center in Plymouth, MI. Speakers for
Sintavia
,
Linear AMS
,
A3DM
and
Trumpf
addressed aerospace, medical and tooling applications as well as advancements in metal powders. At the symposium's conclusion, which ended with a lively panel discussion, Ralf Kimmel, general manager at Trumpf, said he considered the event a success based on the presentations, turnout and level of engagement between the audience and speaker. "This event isn't so much about Trumpf, said Kimmel, as it is about advancing additive manufacturing."
---
Boeing, Thermwood Partnership Yields Huge 3D-Printed Tool
Friday, October 12, 2018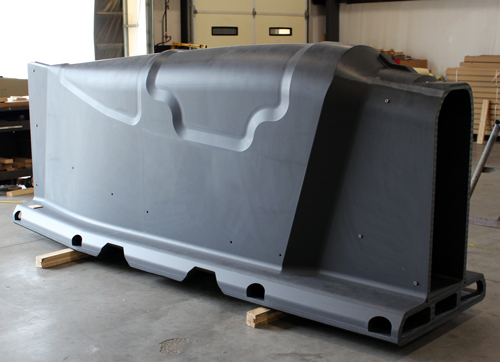 Boeing, the Seattle, WA-based aerospace company and Thermwood, a Dale, IN-based provider of manufacturing equipment, have teamed up to 3D-print a 12-ft.-long R&D tool for Boeing's 777x aircraft program.
Thermwood used a large-scale additive-manufacturing (LSAM) machine and newly developed vertical-layer-print (VLP) 3D-printing technology to fabricate the tool from 20-percent carbon-fiber-reinforced ABS. The LSAM has built-in CNC machining capabilities and uses a two-step, near-net-shape production process intended for the production of large-scale components.

Boeing's purchase of a Thermwood LSAM machine with the VLP functionality, is said to demonstrate the company's commitment to producing high-quality, large-scale 3D-printed tooling.

---