Latest Video
Upcoming Events
Upcoming events for 3D Metal Printing Magazine!
Free E-Newsletters
Sent monthly to inform you of happenings within the 3D Metal Printing industry.
View a Sample
View Issues
---
Toolcraft Reveals Five-Axis AM Future
Friday, August 17, 2018
Toolcraft GmbH, a German manufacturing company, is planning to apply full five-axis AM technologies in the future after a successful initial adoption of 3D-printing processes and Siemens PLM software.
"With Siemens NX, we work with only one file along the process chain," says Ralf Domider, additive engineering part designer, Toolcraft. "There is less complexity. With Siemens NX, we can supply all of these systems and all of these machines—Trumpf, EOS, and Concept Laser."
Toolcraft confirms five-axis AM hybrid machines will replace the powder-bed machines it currently uses in the future.

See also:
---
Stratasys Reveals New Metal Additive-Manufacturing Platform
Friday, August 17, 2018
Stratasys Ltd., the Minneapolis, MN-based provider of additive technology solutions, has announced the development of a new metal additive-manufacturing (AM) platform to address the needs of customers whose requirements include the production of pilot-series parts, small-batch manufacturing during ramp-up and end-of-life, and customized, lightweight and complex parts. The platform incorporates the company's jetting technology and is said to overcome material limitations of currently available metal-based AM systems.

See also:
---
Sintavia Partners with Taiyo Nippon Sanso
Friday, August 17, 2018
Sintavia, LLC, Davie, FL, a Tier One metal-AM, and Japan's Taiyo Nippon Sanso Corporation (TNSC), a global provider of industrial gases and related welding solutions to precision industries, have announced a partnership to develop and promote metal-AM solutions across key industries. The partnership involves a technical collaboration to develop and commercialize gas flow processes that optimize the benefits of metal AM.
"Gas flow dynamics are the single most important—and single most overlooked—aspect of successful quality AM builds," says Brian R. Neff, Sintavia's chairman and chief executive officer. "In TNSC, we are partnering with a true leader in industrial gas flow optimization."
"TNSC has for many years developed proprietary solutions for industrial welding applications," says Tadaharu (Ted) Watanabe, TNSC's general manager of global business development. "We are excited to apply our many years of gas quality control and gas flow experience to the exciting and growing world of additive manufacturing. Sintavia is at the forefront of this technology, and is a quality partner for us."
The optimization of industrial gas for AM involves perfecting the chemistry, mix and flow within the build chamber of each manufacturing run. Poorly flowed or poorly mixed gas can result in builds that lack proper mechanical properties, have unacceptable porosity, or a general lack of fusion. The partnership will work with existing customers to promote optimized gas flow strategies that allow for successful end-use builds.

See also:
---
Sciaky's EBAM Process Achieves Qualification for Satellite Fuel Tanks
Friday, August 17, 2018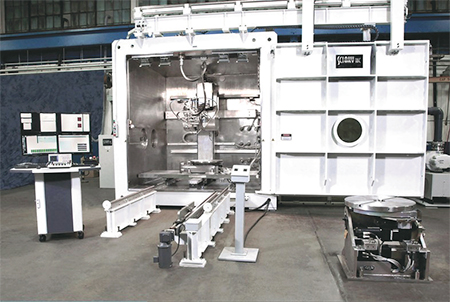 Sciaky, Inc., a subsidiary of Phillips Service Industries, Inc. (PSI) and provider of metal-AM solutions, recently announced that it achieved qualification with its Electron Beam Additive Manufacturing (EBAM) process, stemming from the completion of qualification testing performed by Lockheed Martin Space on a multi-year development program to create giant, high-pressure tanks, which carry fuel for satellites.
Traditionally, it would take a year to secure a 4-ft.-dia., 4-in.-thick titanium dome, but Lockheed Martin has reduced production time of the fuel tank domes by 87 percent, while reducing delivery time from two years to three months. Also reduced is the amount of wasted material from 80 percent to virtually zero. Including the middle tank, the titanium vessel is about 95 in. tall.
Lockheed Martin, which 3D printed both halves of the 46-in. titanium fuel tank domes on a Sciaky EBAM 110 machine, announced that the tanks met or exceeded the performance and reliability required by NASA, allowing it to become a standard product option on LM 2100 satellites.

See also:
---
On-Demand Manufacturing: Xometry Acquires MakeTime
Friday, August 17, 2018
Xometry has acquired MakeTime, bringing together two on-demand-manufacturing platforms. The combined company will operate under the Xometry brand name with offices in Maryland and Kentucky. Drura Parrish, MakeTime founder and CEO, will join Xometry as executive vice president for platform.
The acquisition allows Xometry to grow its national partner network of manufacturers from 1100 to more than 2300 while gaining MakeTime's enterprise-product expertise and features that include the Autodesk Fusion add-in and Shop Advantage program, according to Xometry officials.
In addition, Foundry Group, one of MakeTime's investors, will lead a new $25-million round of funding for the newly combined company. Almaz Capital, BMW i Ventures, GE Ventures, Highland Capital Partners and Maryland Venture Fund also will contribute to the round. This brings the to-date total of funding raised by Xometry to $63 million.
Xometry recently has eclipsed 10,000 customers spanning multiple vertical industries, including aerospace, automotive, consumer, medical devices and industrials. Also, the company recently launched a new version of the Xometry Instant Quoting Engine, which provides instant quotes on uploaded CAD files.

See also:
---