Latest Video
Upcoming Events
Upcoming events for 3D Metal Printing Magazine!
Free E-Newsletters
Sent monthly to inform you of happenings within the 3D Metal Printing industry.
View a Sample
View Issues
---
Sciaky Delivers First EBAM System to Asia-Pacific
Monday, April 23, 2018
Sciaky, Inc., the Chicago-based subsidiary of Phillips Service Industries, Inc. (PSI) and provider of metal-additive-manufacturing (AM) solutions announced that it delivered and Electronic Beam Additive Manufacturing (EBAM) system to the Global Research & Innovative Technology (GRIT) facility of Hitachi Metals, Ltd., in Kumagaya, Japan, making it the first Asia-Pacific installation.
The system includes a dual wirefeed configuration that can combine two different metal alloys into a single melt pool, managed with independent program control, to create custom alloy parts or ingots. Customers also have the option of alternating between different wire gauges for finer deposition features (thin wire) and gross deposition features (thick wire) to meet part specifications.
For more,
www.sciaky.com
.
---
Singapore Agreement Targets Maritime Applications for Additive Manufacturing
Friday, April 20, 2018
Singapore's Maritime and Port Authority (MPA) and the National Additive Manufacturing Innovation Cluster (NAMIC) announced a collaborative agreement to develop additive-manufacturing applications and services for the maritime industry. The Memorandum of Understanding (MoU) was signed at this week's NAMIC's 5th Maritime and Energy Summit in Singapore.
For more,
www.namic.sg/namic-news
.
---
Rapid Growth Expected in AM Metal-Powder Market
Friday, April 20, 2018
A continued increase in AM applications in the aerospace industry for producing engine, turbine and other parts should trigger metal-powders market growth, with the AM-via-metal-powders market size expected to surpass $1.1 billion globally by 2024. That's according to a new research report, Additive Manufacturing with Metal Powders Market, by Global Market Insights, Inc.
Also contributing to the rise of metal powders for AM: the oil-and-gas and various industrial sectors, due to quickened development and validation of designs along with a drive toward decreased production time and cost. Here, the market is expected to surpass $45 million by 2024, according to the Global Market Insights report, with AM already underway for prototyping, modeling and production for exploration and operational equipment, chemical-injection-stick tools, gears, impellers, pipeline rigs, nozzles for downhole-cleanout tools, control-valve components, and sealing accessories.

Stainless steel, aluminum, cobalt, nickel and titanium represent the prominent raw materials used in AM metal-powder applications. Demand for aluminum alloys should increase 27 percent through 2024, according to the report, with automotive a primary driver.
Currently, more than 20 percent of aerospace engineering companies are using this technology to produce components, according to the report, with the industry constantly seeking ways to minimize aircraft weight by employing lightweight metals such as stainless steel, titanium, aluminum and copper. Growing trust in these technologies among aerospace firms should minimize costs for developing models and prototypes, resulting AM metal-powder market gains.
---
Sintavia Approved as Flightworthy Additive-Parts Supplier to Honeywell
Thursday, April 19, 2018
Sintavia, LLC, Davie, FL, a Tier-One metal-AM manufacturer, received internal approval to provide production for Honeywell Aerospace using the laser-powder-bed-fusion process. The approval covers all programs within Honeywell Aerospace.
"We have been working with Honeywell for more than 18 months as part of its rigorous supplier qualification," says Brian R. Neff, Sintavia's chairman and chief executive officer. "We are grateful that all of our team's hard work has paid off, and are looking forward to demonstrating the many benefits of additive manufacturing within Honeywell's supply chain in the form of lower costs, shorter manufacturing times and dramatic design improvements."
Sintavia: www.sintavia.com
See also:
---
Nanodiamonds Boost 3D-Printed Polymer Performance
Thursday, April 19, 2018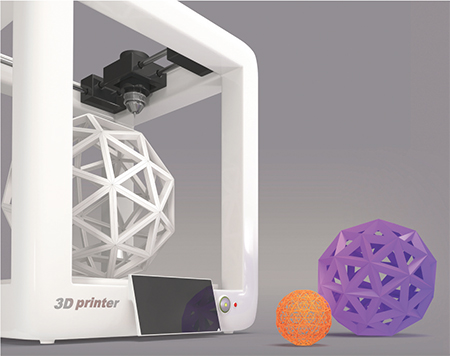 Carbodeon and Tiamet 3D have announced the first nanodiamond-enhanced filaments for 3D printing with a 100-percent increase in tensile strength.
Finnish nanodiamond manufacturer Carbodeon and Dutch 3D-printing specialist Tiamet 3D have announced the first nanodiamond-enhanced filaments for 3D printing. The Carbodeon/Tiamet 3D filaments, based on a joint-patented technology, improve the mechanical and thermal properties of 3D-printed items.
"By joining forces we've already developed filaments with a 100-percent increase in tensile strength, improved printability and better thermal properties," says Reid Larson, CEO of Tiamet 3D. "Printing also runs more quickly and more reliably with the addition of Carbodeon polymer-tailored nanodiamonds."
"Nanodiamonds offer the potential to make 3D-printed components that perform as well as, or better than, comparable injection-molded components, but with massive cost reductions and production speed improvements," says Carbodeon CEO Vesa Myllymäki.
The first Carbodeon/Tiamet 3D filaments will be polylactic-acid-based, with further development focused on high-performance thermoplastics. The companies signed a strategic partnership agreement on joint filament development, along with an agreement for Carbodeon to supply nanodiamond materials to Tiamet 3D.
The newly developed filament product will be available from Carbodeon and Tiamet 3D. Carbodeon filament products will be sold under its uDiamond brand.
Carbodeon: www.carbodeon.net
Tiamet 3D: www.tiamet3d.com
See also:
---