Latest Video
Upcoming Events
Upcoming events for 3D Metal Printing Magazine!
Free E-Newsletters
Sent monthly to inform you of happenings within the 3D Metal Printing industry.
View a Sample
View Issues
Industry News
---
Met-L-Flo Adds Rapid Quote to Website
Friday, March 16, 2018
Met-L-Flo, a Sugar Grove, IL-based a 3D-printing contract manufacturer, has launched its Rapid Quote online feature for granting customers 24-hour access to instant quoting.

"Rapid Quote allows clients to have budgetary numbers well in advance of their program release deadlines," says Carl Dekker, president, Met-L-Flo. Customers can utilize a file to rapid calculation of prices and placement of orders making possible quotes for SLA parts in seconds instead of minutes or hours.

In addition to the online service, Met-L-Flo consultants remain available to assist customers and to discuss additional cost-effective solutions.

For more, www.metlflo.com.


---
Nanodiamonds Boost 3D-Printed Polymer Performance
Thursday, March 15, 2018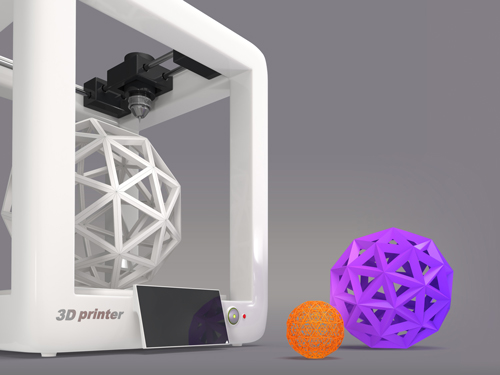 Finnish nanodiamond manufacturer Carbodeon and Dutch 3D-printing specialist Tiamet 3D have announced the first nanodiamond-enhanced filaments for 3D printing. The Carbodeon/Tiamet 3D filaments, based on a joint-patented technology, improves the mechanical and thermal properties of 3D printed items.

"By joining forces we've already developed filaments with a 100-percent increase in tensile strength, improved printability, and better thermal properties," says Reid Larson, CEO of Tiamet 3D. "Printing also runs more quickly and more reliably with the addition of Carbodeon polymer-tailored nanodiamonds."
"Nanodiamonds offer the potential to make 3D-printed components that perform as well as, or better than, comparable injection moulded components, but with massive cost reductions and production speed improvements," says Carbodeon CEO Vesa Myllymäki.

The first Carbodeon/Tiamet 3D filaments will be PLA (polylactic acid) based, with further development focused on high-performance thermoplastics. The companies signed a strategic partnership agreement on joint filament development, along with an agreement for Carbodeon to supply nanodiamond materials to Tiamet 3D.

The newly developed PLA filament product will be available both from Carbodeon and Tiamet 3D. Carbodeon filament products will be sold under its uDiamond brand.

For more, www.carbodeon.com, www.tiamet3d.com.

---
Senvol Developing AM Software for Navy
Tuesday, March 13, 2018
Senvol Developing AM Software for Navy
Senvol, a New York City-based additive-manufacturing (AM) services firm, has announced an effort to develop data-driven, machine-learning AM software for the U.S. Navy's Office of Naval Research (ONR). Senvol software analyzes the relationships between AM-process parameters and material performance. ONR's goal, to have software assist in developing statistically substantiated material properties, will reduce conventional material characterization and testing now needed to develop design allowables.
"Our software capabilities will allow ONR to select the appropriate process parameters on a particular additive-manufacturing machine given a target mechanical performance," says Annie Wang, president of Senvol. "This presents a unique opportunity to reduce the high level of trial and error that is currently required, which would save a tremendous amount of time and money.
"In addition to our machine-learning capabilities," Wang continues, "we also have developed a computer-vision algorithm that analyzes, in real-time, in-situ monitoring data. This enables us to detect irregularities in real-time and to begin quantifying the relationships between irregularities in the build and the resulting mechanical performance."
A modularized ICME (integrated computational materials engineering) probabilistic framework for AM data serves as the foundation for Senvol's software, enabling the categorization of AM data into four modules: process parameters, process signatures, material properties and mechanical performance. The software's algorithm—AM material, machine, process agnostic—will quantify the relationships between the four modules.
Funded through Navy Phase II STTR N16A-002, the software will be commercially available to any company looking to qualify AM parts.
For details, contact
info@senvol.com
or visit
www.senvol.com
.
---
The UK's MTC Seeks to Stem AM Skills Shortage
Monday, March 12, 2018
The United Kingdom's Manufacturing Technology Centre (MTC) has announced that it is seeking contributions from industry for the development of its 3D printing and additive manufacturing (AM) skills competencies framework, due to launch later this year.
For more,
www.the-mtc.org/news-items/mtc-calls-for-contributions-to-stem-additive-manufacturing-shortage
.
---
3D Metal Printing To Be $1.7 Billion Market by 2025, Predicts Research Firm
Thursday, March 8, 2018
The market for "additive manufacturing with metal powders" is expected to go from $365.2 million in 2017 to $1.7 billion by 2025, for a compound annual growth rate of 21.2 percent from 2017 to 2025, according to ProfShare Market Research, New York, NY.
https://globenewswire.com/news-release/2018/03/08/1418080/0/en/Additive-Manufacturing-with-Metal-Powders-Market-Offers-Great-Growth-Potential-and-Efficiency.html
---